Born and raised up north in Norway, I started playing bass at the age of 12. My father brought home an upright bass which I had to play from the third stair in our house's staircase. Soon he followed up with an electric bass and the adventure was begun. I played mostly heavy rock and blues in various schoolbands, and with no sunlight for several months during winter we had to fill our time with something (what else could you do??? There were no girls up north..)
In 87 I moved to Canada ending up studying music at Vanier college in Montreal doing everything from jazz and bigband to sessionwork both on TV and in the studio.
After returning home I joined Déjà vu (funkymetal) in 93 and sat in on several gigs with whoever needed a bassplayer. In 97 I met Stian, our drummer who at the time was playing with Trivial Act (technical metal). I joined them as well gigging for three years. Stian and I then moved on to team up with Nils, Ronny and Jørn Viggo to form Pagan's Mind.
Apart from PM which is our main priority I have done studiowork for Shine Dion (folk rock) and several jazz and stagebands. At the same time Stian and I also gigged with Dimension F3H for a couple of years. Other merits include gigging with Jørn lande on a regular basis as well as teaching electric bass.
Name:
Steinar Krokmo

Born in:
Mo I Rana, Up north Norway

From:
Gokk

Instrument in Pagan's Mind: 
Bass, backing vocals

Instruments (can play): 
Guitar, drums, skinflute, upright bass

My first instrument:
played at the age of: 12 (bass)

Musical influences: 
Seventies progressive music, fusion and hard rock

Equipment: 
Trace Elliot SA 600 w/
2x4x10 Marshall dynamic
cabinets, SWR 400
w/4×10 goliath cabinet,
Alembic 6-string bass guitar.

Favorite bass players: 
Chris Squire , Geddy Lee

First ever bought album/got: 
Thorbjorn Egner –
Kardemomme by

Favorite bands: 
Yes, Gentle Giant, ELP,
Zeppellin, Beatles,
Purple, Floyd, Mahavishnu,
Steve Vai, Seal, Genesis, Rush

Favorite album: 
Rush – Moving Pictures Favorite song:
Steve Vai –
In my dreams with you,
Frank Zappa – Inca Roads Best gig ever:
Pagans Mind – Kristiansand,
Trivial Act, – Parkbiografen

Favorite P.M. song:
Caught In A Dream

Favorite drinks: 
Beer + Vodka Battery

Favorite Food: 
Beers….

Favorite Vacation:
Camping in Sweden +
visit Liseberg

Favorite Car:
Anything that gets me
from A to B as long as
it says Volvo.

Favorite Dream:
Live in a happy, pink and
fluffy world

Words to the fans:
I have no words to my fans…..
send me an e-mail!
Steinar Krokmo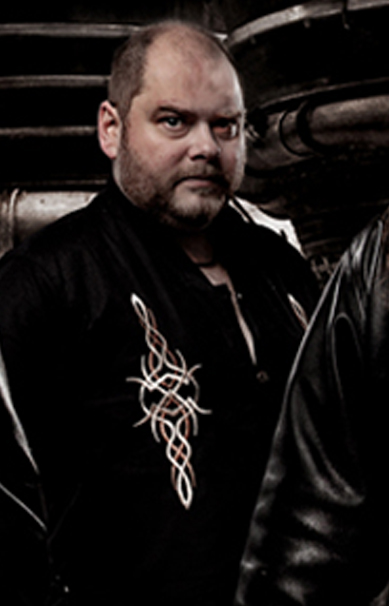 Bass