Being born and raised in the small village of Flatdal in Telemark, Norway, I early got interested in music, and grew up with Beatles and several Rockabilly bands and looked up to my two elder brothers who were in a band. (They had leather jackets, brylcreme and girls – no need to mention any more?). I suddenly discovered my fascination for hard and epic music, and wanted to form a band as a 14-year old kid, but unfornately, none of my friends back home had the skill to play.
Mercyful Fate and Dio shooked my musical world in the early eighties and 18 years old I left my dear Mommys apron strings to form a band. Ever since, great music has been my way of expression and source to carry on.
Being both guitarist and vocalist in several bands, I now concentrate fully on the vocal work but write music at home, on the guitar and record in my home studio. I use much of my free
time on that and I never get bored with it either. It was my dream to combine aggressive music with the melodic aspects, and with such talented musicians as my fellow bandmates, I am finally able to create the music of my dreams.
Besides my fire for music, I'm very interested in the mysteries of time and universe, paranormal phenomenons and the great riddle of excistence. You can easily notice so whilst reading some of my lyrics, who builds a platform for-some of my ideas and beliefs. Till' next time, carry on.
Yours Sincerely,
Nils K. Rue
Name:
Nils K. Rue

Born in:
Flatdal, Norway

From:
Skien, Norway

Instrument in Pagans Mind:
Vocals

Instruments (can play):
Vocals, Guitar, Bass, drums and some keys

My first instrument played at the age of:
10 (drums)

Musical influences:
Dream Theater, Secret Garden, Queensryche, Crimson Glory, Rhapsody, Old King Diamond, Classical and film music.

Equipment:
Shure SM 58, Gibson Flying V, Metal Driver by Sumer, Boss GT-10 effects processor

Favorite vocalists:
Daniel Heiman, Glenn Hughes, Michael Kiske, Midnight

First ever bought album/got:
Slade – Play It Loud, at age of 4

Favorite bands:
Dream Theater, Queensryche, Helloween, Lost Horizon, King Diamond

Former bands:
Toxic, Vigalante, Bremsespor,
Sunset Strip, Silverspoon

Favorite album:
Images & Words by Dream Theater

Best gig ever:
King Diamond, Oslo 1993

Favorite film:
What Dreams May Come, Independence day, Fire in the sky

Favorite book:
Marcello Haugen (about a famous Norwegian psychic)

Favorite song:
Under a glass moon by Dream Theater, Walk in the shadows by Queensryche

Favorite drinks:
Coffee with Lucky Strikes, Coca Cola

Favorite Food:
Meatballs with potatoes, taco

Favorite Vacation:
Andromeda Galaxy, Florida

Favorite Car:
Mercedes 560 SEC or 1968 Corvette Stingray SS 454

Words to the fans:
Everything is not
just that of what you see…
Nils K. Rue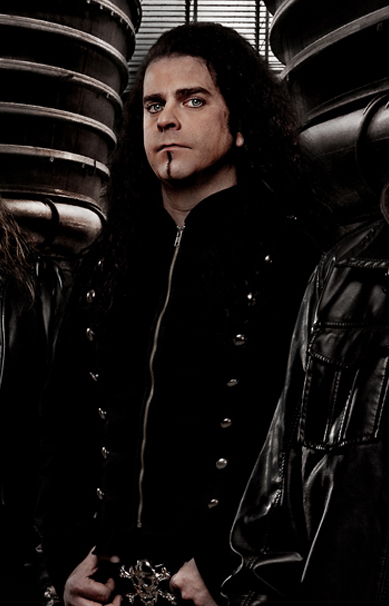 Vocals